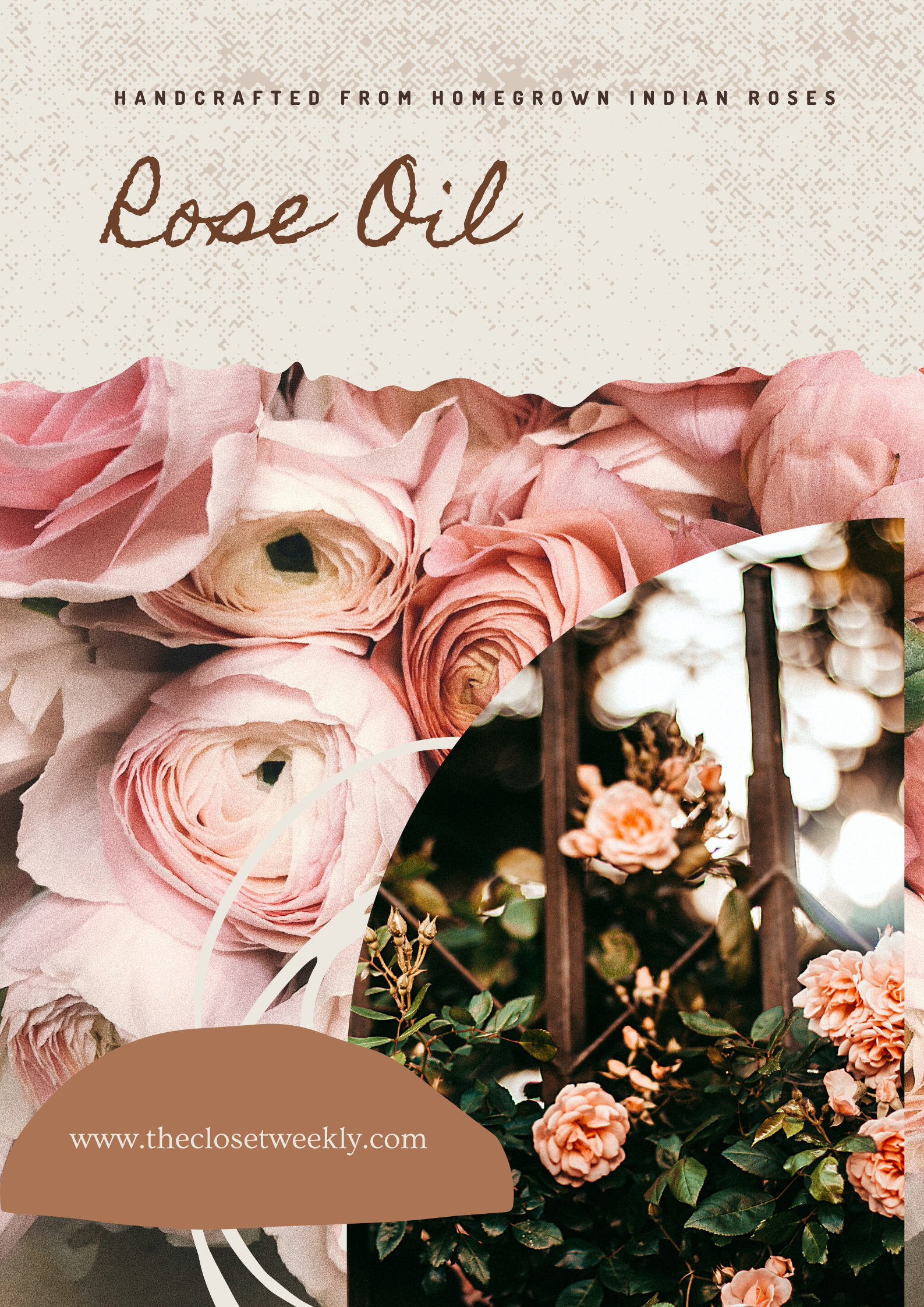 Description
Rose oil is a popular essential oil extracted from the petals of certain roses.There are many benefits to rose oil! Benefits include helping skin heal from scars and moisturising it, fighting inflammation, relieving stress and promoting circulation. In aromatherapy, breathing in the scent of rose oil has long been held to have anxiolytic (anxiety-reducing) and aphrodisiac benefits. When applied to the skin, rose oil may help relieve pain and inflammation while improving overall skin health.Rose oil has been said to be an aphrodisiac and can evoke romantic feelings. Use it on your cuticles for hydration. There are so many ways to use rose oil and it's gentle enough that you can experiment with it.
Benefits of Rose Oil
First and foremost, rose oil is an antibacterial substance. Using it in the evening, to remove make-up will totally clean the face skin. When needed, people can use it on other parts of the body skin, to disinfect gently.
Secondly, this magic substance does miracles for the quality of the skin as a whole. People using the oil to treat their skin will notice that gradually it will become smoother and more glowing, which is a must, especially for ladies. The reason is that this oil enhances blood circulation.
Thirdly, but equally important, rose oil is a natural moisturiser. That is a quality essential for achieving perfect, radiant facial skin. Why use commercial moisturisers, when people can stock on this oil and have aromatic moisturising at their fingertips. It is sufficient to use several drops and rub them gently into the skin.
Roses are red, Violets are blue, Sugar is sweet, And so are you
How to use rose oil?
You can use rose oil may different ways. Apply it directly to the skin or add a few drops to your shower gel, bath, or face cream for a hint of rose and hydration. Use it in a full body massage to reap the moisturising benefits over your whole body. You can also apply oil to your scars when they are healing. Lastly, you can put it in a diffuser for emotional benefits.The oil is an anti-inflammatory agent and tissue regenerator loaded with therapeutic benefits for the skin. It not only moisturises, but also preps the skin and makes the products last longer.Make a body scrub with sugar, coconut oil and a few drops of rose oil. You can use it on your lips too, which is great to do in the winter with the harsh weather.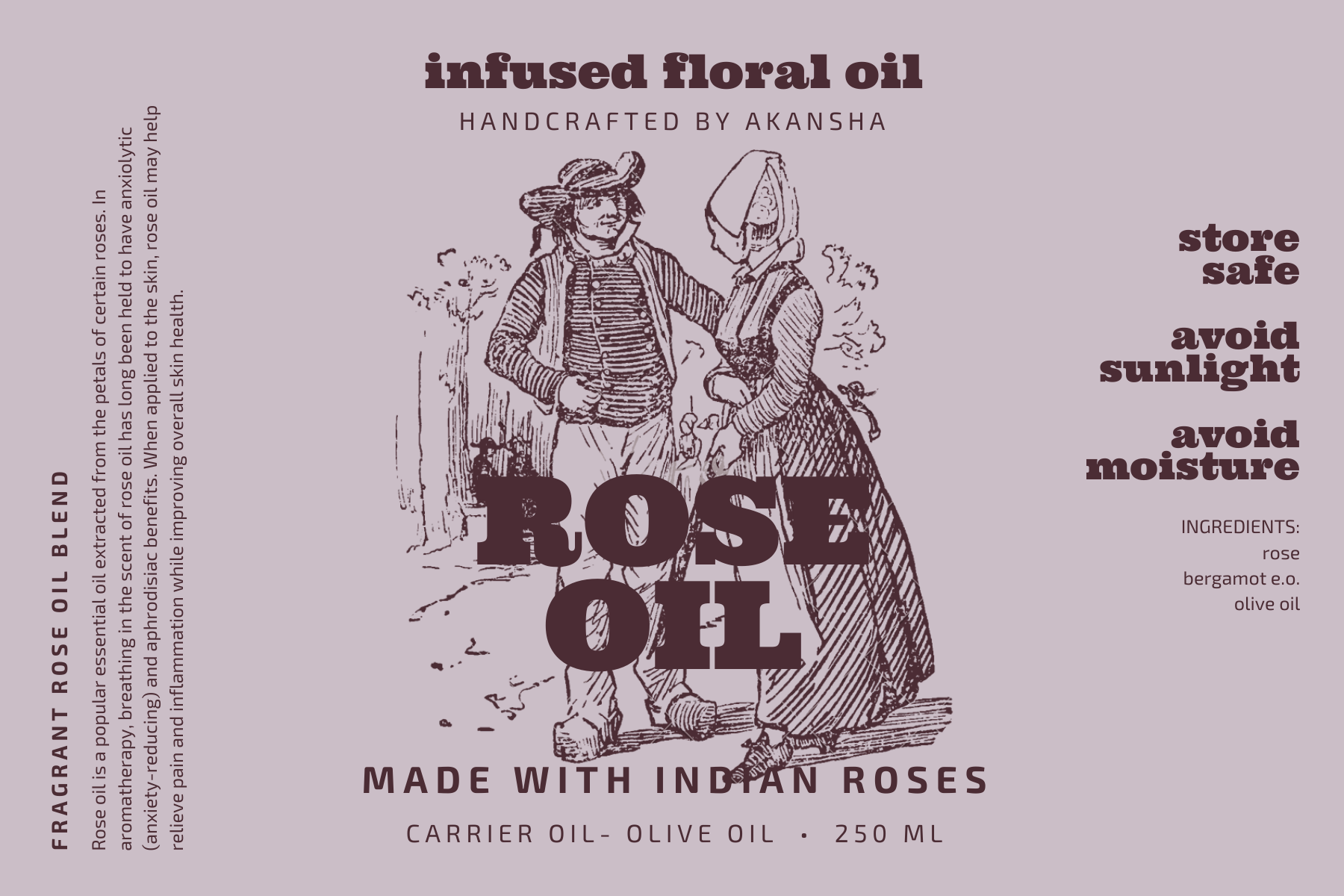 Caution
Rose essential oil has a few side effects to be vary. It should not be used during pregnancy as it is an emmenogogue and can lead to miscarriages or abnormal bleeding. If you use this to cure headaches, you must use it in a diluted form as sometimes the aroma can lead to a stronger headache.
Other than this, there are no harmful side effects to using this essential oil of rose. You can always conduct a patch test to see the way your body reacts to it. On a general note, you should always consult with your doctor or herbalist before adding anything new to your diet or lifestyle.Please fill out the contact me form with your shipping address and preferences if any. We can customise the oil to your skin as well. Homegrown organic Indian roses are used in the preparation of this oil. If you would like to gift wrap it please let us know.Please mention the quantity you would be interested in. We sell rose oil in various sizes : 50ml,100ml,150ml,250ml.